linen care guide
To extend the life-cycle of your linens, it is crucial you take good care of them. We've created this guide to make laundry day a more gentle, sustainable and enjoyable experience. 
Jump to a topic:
The main culprits that damage fabrics are friction / abrasion, heat, harsh chemicals & UV rays. 
*Prior to 1st wash, carefully read the instructions. We cannot accept return/exchange of items damaged due to improper wash.
Wash

Wash inside out, separately (from rough/heavy items like towels, jeans). Close zippers.
COLD (up to 30°C), gentle cycle.
MILD liquid detergent or dissolved powders.
NO bleach, brightener, softener/conditioner.

Dry

Line dry in shade or
Tumble dry on LOWEST temp. Remove immediately (slightly damp) to prevent wrinkling from overdrying.

Iron

Lessen wrinkles by shaking out between wash and dry.
Bamboo: Iron on LOW.
Linen: Wrinkles are part of pure linen's charm! If desired, iron on HIGH while damp.

Store

Store in cool, breathable place away from direct sunlight.
Avoid plastic & cardboard which attract insects and cause yellowing.
Why cold wash &
low-heat drying/line-drying?
Prevents shrinking, color fading/bleeding.

Helps linens last longer.

Reduces wrinkles (less need to iron).

Reduces energy costs.

Heat sets stains, making them harder to remove.
Why skip bleach, brighteners, softeners, conditioners, fragrances?
Deteriorates fibers & linen quality.

Fades naturally dyed linens.

Triggers health issues like asthma, allergies, hormone disruption—esp. sensitive skin & babies.

Chemical fragrances provide no cleaning power, only the illusion of cleanliness.
Use natural / gentle detergents instead (better for linens & your health)
Natural brands

Cycles

Human Nature

Nature to Nurture

Tiny Buds

Wonderhome Naturals

Common household brands

are also good—choose gentle / fragrance-free / naturally scented variants
IN GENERAL
Treat stains ASAP. The longer you wait, the harder it will be to remove. Avoid tumble-drying or ironing before treating as heat sets stains.
Choose the right water temp to avoid setting the stain. Use WARM for oily/fatty stains; COLD for others (coffee, blood, chocolate, ketchup, red wine, etc).
Use gentle detergents / stain removers. NO bleach & brighteners, which only fade natural dyes, strip and damage fabrics. Spot test if unsure. 
Gently rub or dab. Don't scrub.
RECOMMENDED STAIN REMOVERS
Stain removers with active oxygen / oxygen bleach like Wonderhome Naturals Laundry Stain Remover. Active oxygen is a color-safe bleach free of chlorine and harsh chemical smells. It safely and effectively brightens, disinfects, removes dirt, stains, and odors.
DIY stain remover: Soak stain in 1 part vinegar + 4 parts water for a few mins. and launder as usual. Repeat as needed. 
HOW TO TREAT COMMON STAINS
Oils (food, body oils, lotions): Spot clean with mild

dishwashing 

liquid, a natural de-greaser. Wet stain with lukewarm/warm water and g

ently rub

with dishwashing liquid. Launder as usual.
Fresh/wet blood: Rinse immediately with a blast of cold water so it doesn't set. Gently rub with soap and rinse with cold water.
Dried blood: Apply thick paste of salt + cold water onto stain and let soak 10-20 mins.

Gently rub

 

and rinse with cold water.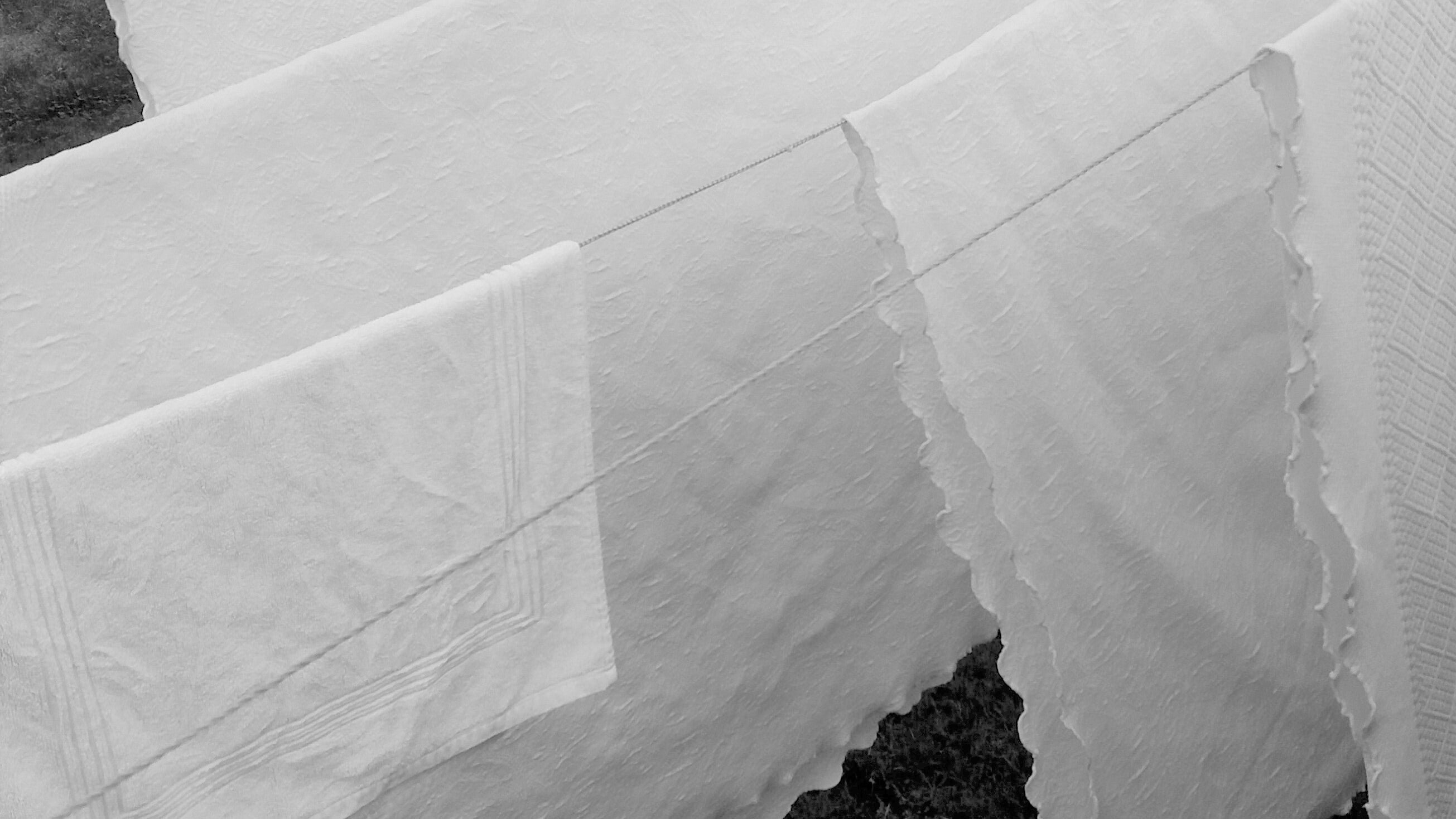 BRIGHTEN WHITES NATURALLY
1 | USING BAKING SODA, VINEGAR, SUN
1 | Wash cycle: Add 1/2 cup baking soda + liquid detergent.
2 | Rinse cycle: Add 1/2 cup vinegar directly or pour into drawer where fabric softener goes.
3 | Line dry in the sun, a natural brightener and freshener. Also recommended for dry-clean only linens like duvets/comforters and pillows.
Why it works: Baking soda, vinegar and the sun naturally whiten, soften, freshen and neutralize odors.
2 | USING STAIN REMOVERS WITH ACTIVE OXYGEN
Active oxygen / oxygen bleach is a color-safe bleach free of chlorine and harsh chemical smells. It safely and effectively brightens, disinfects, removes dirt, stains, and odors.
WHY SKIP BLEACH & BRIGHTENERS
They weaken and deteriorate fabrics over time, and brings with them irritation, toxins and carcinogens.
They can trigger health issues like asthma, (even in previously non-asthmatic people), allergies, and hormone disruption—especially sensitive skin and babies.
They can irritate the skin and eyes on contact.